A journey through the human brain
Max Planck researcher Li Zhaoping deliberates on neuroscientific views at Venice "Human Brains" exhibition
Supported by numerous international scientific institutions, the Human Brains project in Venice, Italy, started these days to showcase the impact of the brain to our lives. By complementary scientific considerations of various disciplines, the exhibition examines the brain from neuroscientific, psychological and philosophical perspectives and continues towards artificial intelligence. Max Planck Researcher Li Zhaoping has been chosen to become part of an interactive video installation, The Conversation Machine, an orchestration of videos and interviews, making her along with 35 other scientists from all over the world cite and virtually debate from their specialists´ views. 
 
The exhibition is curated by Udo Kittelmann, former Director of the Berlin National Gallery, in collaboration with the U.S.-american artist Taryn Simon and organized by Fondazione Prada. Covering three floors of Ca' Corner della Regina, the Venice venue of the foundation, it is the result of a long and in-depth research process carried out with a scientific board. At the center of the second floor, neuroscientists, psychologists, neuro-linguists and philosophers from all continents share their insights by interviews and statements on a large arrangement of digital screens.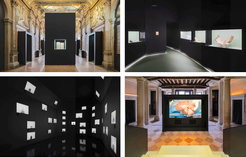 Zhaoping discusses the frontiers of artificial intelligence today, explains ethical challenges of AI research and discusses the uniqueness of the human brain: "A fly tends to run away faster than you can catch it. Why is that? The fly has a small brain that specializes on reacting to external inputs in a reflexive or bottom-up manner, we humans have a large brain that is better at controlling our responses to the external worlds by our internal goals," she states.
The neuro and computer scientist leads the research department of sensory and sensorimotor systems at the Max Planck Institute for Biological Cybernetics in Tübingen, Germany. Li Zhaoping´s research focuses on the understanding how the brain receives and encodes sensory input and processes this information to direct body movements as well as to make cognitive decisions.
This is what the exhibition further navigates the visitor through: it is about understanding the complexity of the brain from the diverse scientific views and attitudes. It also outlines still missing opportunities and gaps in research and draws a bow towards artificial intelligence and robotics. The journey is enriched with a series of digital projections on anatomy and physiology and also presents the fundamental principles of the brain.
More than 110 exhibited items encode centuries of various attempts to understand the human brain. These include historical objects, drawings, paintings, prints, and books which mark some of the most significant stages of a millenium-long journey of discovery. Thirty-two international fiction authors have written literary texts in response to the objects, expanding the boundaries of the investigative scope.
The Human Brains exhibition is opened until November 27 at Fondazione Prada Venezia, Ca´ Corner della Regina, Santa Croce 2215 in Venice, Italy.